Update, August 8, 4:55 PM EST: Alex Morgan has been diagnosed with a mild MCL sprain in her left knee, following MRI results, Portland Thorns FC confirmed. No ligaments were torn. She is expected to miss between 2-4 weeks.
"It's a relief that there is no significant damage to my knee. I will do everything in my power between now and Aug. 24 in order to be available for the playoffs and to win the championship," Morgan said.
Portland Timbers Director of Medicine Dr. Richard Edelson at Sports Medicine Oregon in Tigard, Ore., confirmed the diagnosis on Thursday afternoon.
It is a grade 1+ MCL sprain in her left knee after MRI results, sources tell Richard Farley.
The Thorns FC forward was stretchered off the field with a knee injury six minutes into Portland's 2-1 loss to Boston on Wednesday.
The Portland Thorns forward went down after a collision with Breakers defender and former teammate Jazmyne Avant.
After six minutes on the ground, Morgan was stretchered off the turf at Dilboy Stadium and noticeably upset. The U.S. international was checked out by trainers on the sideline before being taken to the training room at Dilboy Stadium. Morgan emerged from the trainer's room at halftime in a full leg brace but without crutches, according to our Meg Linehan, who was at the match.
Morgan also took to Twitter after the game, staying optimistic:
Hey everyone thanks for all the words of encouragement. Will go through further eval tomorrow and update everyone then. #positivethoughts

— Alex Morgan (@alexmorgan13) August 8, 2013
On Thursday, she tweeted further optimism:
Last night was rough but thanks to amazing Docs/trainers I was able to get immediate care. On the road to recovery! http://t.co/lEZAWgeBIT

— Alex Morgan (@alexmorgan13) August 8, 2013
Morgan leads Portland with eight goals this season. She also has tallied five assists.
The Breakers beat Portland on a late goal, but were still eliminated from the playoffs due to other results.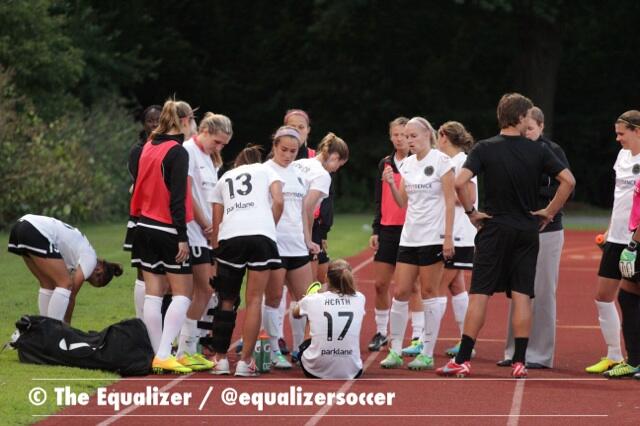 MORE EXTRA
Inverted fullbacks are in vogue. They are the tactical concept of the time, but...

After 23 years and 331 caps, the iconic No. 12 walked off the field...

Shaw has now scored two goals for the US in just four appearances. Tuesday...